Post Shit
In 1977 during my fifth form year, at the age of 15, I broke my neck as the result of a rugby injury. Not the smartest thing I've ever done, made worse as we didn't even win the game! I had been playing in an internal 'House' game at King's College. I'd wanted to be a pilot and was in the top educational stream, but had to abandon any hope of flying as a result of becoming a Tetraplegic. I continued my education through correspondence school obtaining University Entrance qualifications in five subjects including Art History. Despite completing my education, I still had no idea what I wanted to do with my life.

I spent eleven years at the Otara Spinal Unit in Bairds road, not exactly how long rehabilitation is supposed to last, but I finally moving into the community in 1988. In 1990 I married Jenny Anderson, a nurse I had met while in the Spinal Unit.  We have built a home, Mollybean Manor, located in Waiau Pa, near Pukekohe, where we live and work enjoying life in a friendly rural community.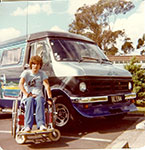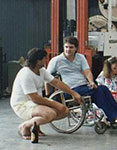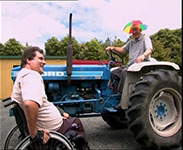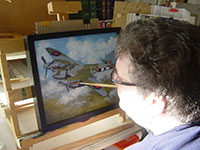 Despite over 40 years in a wheelchair, I've lead a very full life and have been privileged to do a number of things, traveled to many destinations around the world and generally ticked off quite a few things on my bucket list and I'm not finished yet!

There's no real secret to success – 'work hard, seize every opportunity and never give up'. Follow that formula and success will follow, especially when you keep things in perspective, embrace a sense of humour and try and maintain balance in your life!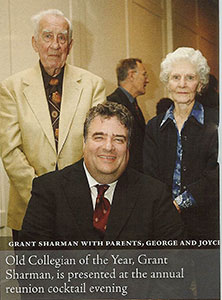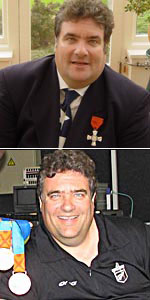 How the Shit Happened...
My accident occurred at Kings College in 1977. To be fair, it wasn't my first rugby injury. In 1975 and 1976 I damaged the cartiledge in each knee requiring surgery, no wonder Mum didn't want me to play in 1977. I was 15½ and it was an inter-house game, not even an inter-school game - some of those games were fiercer than the inter-school games. It was just one of those moments in time when I lost my cool. I knew my abilities, I knew I wasn't a Sean Fitzpatrick, but it was the first time I'd played on the number one ground. It had a lot of significance. I was becoming a better player and selected not because they needed to make up numbers, but because I was playing well. I felt I was in a good team but we weren't winning the game when we should have been. I guess we were all a bit fired up.

The accident happened in a ruck which had formed in front of our goal posts. They had a very good half-back first-five combination and I knew that if they got the ball, they'd score. I don't know what I expected to do but I thought I saw the ball and I just charged in. Somehow I think I got my neck between two people and it bent forward or something like that. One way or the other it was broken and that was it. The next thing I was lying in the mud and everyone was running away. I couldn't move, I couldn't hear, I couldn't feel, I was very scared.