My Art
In 1980 well-known mouth painter, Bruce Hopkins, suggested that I try painting using a brush in my mouth and my father encouraged me to give it a go. Bruce was a member of the Association of Mouth & Foot Painting Artists (VDMFK) that is based in Europe. Despite Bruce's severe disability (he could only move his head), Bruce had an incredible presence and proceeded to show me how to paint using the brush in my mouth . My first efforts were terrible but he insisted I keep trying and Bruce became a valuable mentor.

My first six paintings submitted to the MFPA were rejected, but in 1981 I was awarded a stipend from the Association that is well known for the greeting cards and calendars it's artists produce. In 1988 I was made a full member of the Association and this has given me financial independence and a greater quality of life. As a member of the MFPA I have traveled to many parts of the world and met some wonderful people forming life long friendships. There are approximately 100 full members, 50 associates and over 800 students throughout the world, we are like a family. In 2017 at the 65th Anninversary of the Association I was elected on to the International Board – the pinnacle of my artistic career, if only Bruce and my Dad had seen that.

At school, the idea of being a professional artist never entered my mind, so I like to paint many different subjects including landscapes, Christmas scenes, still life, cars, planes, trains and floral compositions. I get a thrill out of creating a painting that captures the subject matter and portrays it in a realistic form. I now paint mainly in acrylics and watercolours, though I have used oils in the past.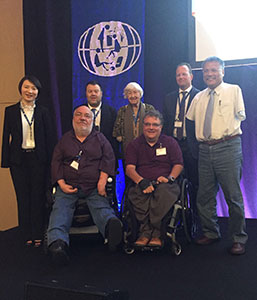 I still have the first two paintings I did with my mouth in 1980 and they hang in my art studio.  They are a reminder of where I have come from, in terms of my art, as well as proof that anything is possible if you never give up. With every successful painting I produce, I feel immense pride. That feeling is only equaled by the comments of other people who like my work so what better job satisfaction can you get, I love my job!!

If you'd like to view our International Website, click VDMFK  or to view our NZ Website click MFPA or if you'd like to contact our NZ Office with a query, e-mail Barbara at mfpa@ihug.co.nz or phone 09-827-6746.
Art Commissions
One of the really satisfying aspects of my artistic career, is completing commissions for people. As a rather reluctant artist, I never thought one day I would make a living as an artist, so creating bespoke works of art especially for someone I'm not related to, was a totally foreign concept. Over the last 4-5 year though, I've done just that. Creating a painting that someone specifically wants is an honour but also carries a responsibly to get it right. If you'd like to commission me to do a painting for you, have a look at the COMMISSIONS GALLERY and then please go to the CONTACT page and drop me a line.
---
This is a short video about me painting by talented director, Neti Fa'au, from Attitude Pictures